Officially licensed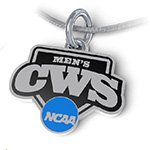 Hear the crack of the bat, drink in the excitement of the crowd and show your team support with the sparkle of diamonds off your new favorite hand crafted jewelry piece.Perspective Jewelry has developed a unique and exclusive line of sports jewelry.We are proud to offer officially licensed NCAA and College World Series custom jewelry pieces for the eight individual teams making the trip to Omaha. We can also offer customizable options, a favorite being your players jersey number.
Contact us
today with questions or to preorder
We invite you to visit our studio in the Old Market or stop by our booth in the Bullpen at the Omaha Baseball Village during the College World Series.